Best Spanish Schools in Salamanca, Spain
Learn Spanish in Salamanca
---
School Info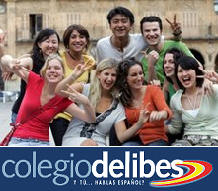 Bienvenidos a los cursos de español
Colegio Delibes:

El colegio está situado en un emblemático edificio, situado a cinco minutos a pie de la Plaza Mayor, totalmente restaurado con tecnología de última generación, equipado con 20 aulas, todas con aire acondicionado, sala de vídeo y conferencias, biblioteca, sala de informática con uso gratuito de internet y espacioso patio interior con pozo castellano en el que podrás relajarte y tomar un café en los descansos de las clases con tus amigos.

Caracteriza a nuestro centro un auténtico ambiente internacional con un completo programa de actividades extra-académicas, la mayor parte gratuitas para nuestros estudiantes. See students quotes...


School Website Links

| | | | | | |


Costs

Academics

2 weeks
40 hours
265 Euros
3 weeks
60 hours
370 Euros
4 weeks
80 hours
472 Euros
Accommodations

Private
Full board
17 Euros /day
Private
Half board
16 Euros /day
Double
Full board
16 Euros /day
Double
Half board
15 Euros /day
Apartment
Private
178 Euros /2 weeks

Accrediations

Colegio Delibes is an accredited center by the Instituto Cervantes, also affialited to FEDELE, ERE, DELE and the Asociacion de Escuelas de Español de Castilla y León.


Contact Info

Colegio Delibes
Contact: Miguel Ángel Benito Sánchez
Website: www.colegiodelibes.com
E-mail: delibes@colegiodelibes.com
Address: Avenida Italia, 21; 37007 - Salamanca, España
Tel: (+34) 923 120 460
Fax: (+34) 923 120 489