Best Spanish Schools in
Isla Margarita, Venezuela
Learn Spanish in Venezuela
---
School Info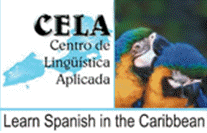 Spanish language courses, Cela Spanish School, Margarita Island, Venezuela
Spanish in the Caribbean

Learn Spanish in the Caribbean in small groups all year round. Cela Spanish School offers Spanish courses for 5 levels, and also Spanish courses for special purposes such as health, law, and business. The Spanish courses are offered in small groups, with max 7 participants. It is also possible to book one to one lessons.

The school is small and personal and is located in Playa El Angel one of the best areas of Isla Margarita, far from the touristic places. Cela was founded in 1997.The director and owner of the Spanish school is Dr. Sabine Loffler, PhD in Spanish Language of the UNED in Madrid, Spain. She also has a master´s degree in education and before founding Cela, she teached Spanish at German Universities. Sabina is teaching Spanish since 20 years. The staff of Cela Spanish School is composed of 5 teachers including the owner, all with university degree, most of them multilingual and Spanish native speakers.



School Website Links

About CELA | Margarita Island | Group Courses | One to One | Medical Spanish | Spanish for Business and Law | Courses for Teachers |

Accommodation | Activities and Excursions | Starting Dates Registration Form | Credits and Bildungsurlaub References and Feedback | Rates and Prices | Photo Gallery | Contact


No Features of CELA

Costs
Academics

Group courses: 25 Lessons per week (45 Min), from 8.30 am until 1.00 pm, teaching material, certificate $230/week

Spanish courses for special purposes: Medicine, law, business or tourism: $260/week

Courses for Spanish teachers: 2 weeks seminar $ 600 US, 25 lessons per week of 45 minutes.

10 One to one lessons $250 US
15 One to one lessons $360
20 One to one lessons $460
25 One to one lessons $575


Accommodations
Homestay single room with bathroom, and 2 meals (except Sundays) $224 per week. Extra days $32
Studio apartment $40 (if available) per night
Apartment with 2 bedrooms $70 per night (if available)

Transfer from the airport to the family (one way): $ 20 or 40 BS.
Transfer from the ferry to the family (one way): $ 30 or 60 BS


Contact Info

Centro de Lingüística Aplicada CELA
Contact: Sabine Loffler. Directora
Website: www.cela-ve.com
E-mail: loffler@cela-ve.com
Street address: Calle Corocoro Qta. Cela Urb. Playa El Angel; Pampatar; Isla de Margarita 6063. Venezuela

Tel: 0058 295 262 81 98
Fax: 0058 295 262 81 98