School Info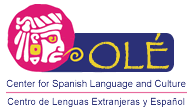 Travel to México, study and learn Spanish abroad in our Center for Spanish Language and Culture. We are in the beautiful colonial city of Queretaro. As a small school, OLÉ's teachers and staff offers personalized attention in a friendly and relaxing environment.

What we offer:
• Learn and study Spanish in one of our group and/or tutorial classes.
• Small groups, no more than 5 students per class.
• Take advantage of total immersion programs were you can combine Spanish language classes with cultural classes, extra activities, fieldtrips and living accommodations in a Mexican home.
• Learn Spanish in a short period of time with our friendly Mexican teachers, they will make you feel right at home.
• Your learning experience combined with our teaching methods will meet your expectations.
• You'll have a fun and memorable cultural experience.

No School Website Links



No Features of Olé Spanish School


Contact Info

Olé Center for spanish Language and Culture
E-mail: info@ole.edu.mx
Website: www.ole.edu.mx
Street address: Mariano Escobedo #32
Col. Centro; Querétaro, Qro. CP 76000; México
Tel: +52 (442) 214-4023
Fax: +52 (442) 214-2628