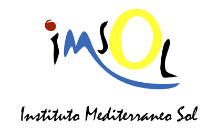 Learn Spanish in Imsol-Granada and you'll get the highest guarantees: we are Instituto Cervantes Accredited Teaching Centres, and we comply with the CEN regulations (Comité Européen de Normalization) concerning the language study trips. Our Spanish teaching programmes are organized according to the levels of the European Common Reference Framework for Languages (Council of Europe).
The wide range of Intensive Spanish Courses we offer, regarding the type and also the number of Spanish lessons per week, will make your choice easier whether you are a professional or a University student, a teenager, a retired person, or simply someone who wish to study just for fun. To enhance the learning experience and your time on your Spanish course in Spain, we also offer daily activities to make you be in contact with our cultural reality in a pleasant way.
All of this together with the personalized treatment and the quality in all the services we offer are some of the features that make our Spanish school different.