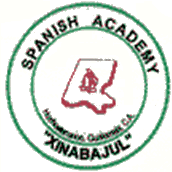 Our School was founded in 1992. The name's origin is from the ancient Maya-Quiche meaning "place among valleys". XINABAJUL is the Old Mayan name for Huehuetenango, the pronunciation is: Shin-a-bah-hool.
The main goals of our School are to provide work for teachers and families from Huehuetenango, and to provide quality Spanish language instruction to our students. Our school offers a friendly and relaxed environment. We are located in a beautiful building in a tranquil and safe neighbourhood. We are in close walking distance from the main bus terminal, Pais (supermarket), and the central park.
The school is open year round.
HUEHUETENANGO:
Is a great place to learn Spanish, the people of the city speak mainly in Spanish, their pronunciation in general is correct and clear, because it is their first language and most have some a level of education.
We are 2 hours away from the Mexican border and 5 from Guatemala City. Around Huehue there are many Mayan villages an many other interesting places to visit. The temperature varies from around 25 to 30 degrees Celsius (72 F) during the day, and about 14 or below during the night. The coolest months are December and January. The rainy season is from May to September, with afternoon or evening showers lasting for roughly an hour.
Method of Teaching:
Out teaching methods are adaptable to any level of Spanish a student may have. We offer individual instruction. A typical schedule includes 4 hours of study per day, 5 days a week. Our 4 hour day is broken into halves. You will have a different teacher for the first and second half with tailored instruction per session.
However, we are able create a schedule based on your needs and availability of time. Likewise, if you are interested in studying with a friend or in a group we can arrange classes to meet your needs.
When you arrive, your teacher will evaluate your Spanish level both orally and written. He or she will then develop your individual course plan depending on your level your goals and your needs. You can choose which program is right for you:
BASIC: If you are interested in only an elementary level of Spanish in order to travel or if you have only a short time to learn. You will be taught basic ¨survival¨ Spanish to assist you in your travels communicating your basic needs. For those who have only 1 to 2 weeks to study.
SYSTEMATIC AND PROGRESSIVE: If you have more time to learn Spanish and are interested in a better understanding of the language. You will be taught the basic grammatical structures of Spanish, to include the present, past, and future tenses. You will reach a higher level language comprehension sufficient to have a basic conversation with people in the street. For those who have between 2 and 4 weeks to study.
INTERMEDIATE: If you have an interest in developing your Spanish language proficiency to have more in-depth conversations and a greater level of understanding in both oral and written language. This requires more time spent in the classroom as well as individual study and practice time. You will be taught compound tenses, obtain a wider vocabulary, and be able to hold conversations. Normally 1 to 2 months are needed to achieve this level of Spanish.
ADVANCED: If you are interested in perfecting your Spanish and already have some background speaking the language. You will learn grammatical intricacies of the language, be able to express and understand complex thoughts and ideas, as well as minimize minor grammatical errors. Amount of time necessary depends on the Spanish level that you arrive with and the amount of time you have to dedicate to your studies.
Spanish classes are typically given from Monday to Friday, in the morning from 8:00 a.m to 12:00 p.m or in the afternoon from 2:00 to 6:00 p.m. If you desire a different schedule please let us know as we are flexible to meet your interests and availability.
TEACHERS
Our teachers are university trained with many years of experience. They are dynamic and friendly and committed to teaching you in an easily understandable manner. Each student receives individual attention and is treated with respect. Our teachers have a wide range of knowledge and interests and would be happy to discuss topics based on your interests.
HOMESTAY
We offer home stays with trusted local families for those students who are interested. The families are located within a 5 to 15 minute walk from the school and are all in safe neighborhoods. They provide students with lodging, three meals a day, a very clean, private room, hot water, and an enjoyable environment. The families have many years of experience with foreigners and an interest in sharing their culture. Only one student is placed with each family which allows for individual attention from the family. You will have a chance to learn first hand about the Guatemalan culture and practice you Spanish outside of the classroom.
We ensure your satisfaction with the family and if for any reason are unsatisfied we will place you with another family. Likewise, if you would prefer to stay in a hostel/hotel we will provide you with information on local accommodations.
VOLUNTEER WORK
Huehuetenango offers many volunteer opportunities. If you are interested in doing volunteer work during your stay we will assist you in contacting organizations and arranging opportunities. Some of the options include working with street children, at an orphanage, working in public hospitals and schools, helping with reforestation and other agricultural projects.
If you don't want to volunteer but are curious in learning about the many organizations present in Huehuetenango it would be our pleasure to arrange a day visit.
ACTIVITIES:
We are very interested in the overall experience of our students which is why we offer various activities. We want to assist our students learn about the culture and history of Guatemala as well as to enjoy the beauty Huehuetenango has to offer.
1. Friday Dinners
Teachers and students prepare an international, pot-luck style, dinner. You can learn how to cook traditional Guatemalan food like tamales and churrasco, and you can teach us traditional dishes of your country, or cook your favourite meal.
2. Excursions
Two times per week we take an excursion in the afternoon to a local place of interest. This will usually be between a 30 and 60 minute bus ride. One of the school's teachers will accompany you and give you an explanation of the place you are visiting. You are only responsible for paying your transportation and any potential entrance fees.
These excursions include visiting ruins, indigenous markets, and artisan shops.
3. Multi-media
We watch documentaries about the political situation and history of Guatemala. This is a good way to learn about this region. Typically the movies are in or subtitled in Spanish so you are able to practice your Spanish. We also have a variety of Spanish language music and books at your disposal.
AIRPORT PICK-UP
Should you wish to be picked up at the international airport in Guatemala City please let us know in advance and we will be happy to make arrangements for you. A representative from a reputable hostel will pick you up at the airport and take you to the hostel where you will spend the night. The will also provide meals. The hostel's representative will take you to the bus station early the next morning and someone from the school will greet you upon arrival in Huehue. The normal cost is: U$35.00. This is includes pick-up from the airport and transport to the hostel in Guatemala City, 1 night's stay in the hostel, meals, transport to the bus terminal the next morning, and pick up in Huehuetenango.