Best Spanish Schools in
Manuel Antonio, Costa Rica
Learn Spanish in Manuel Antonio
---
School Info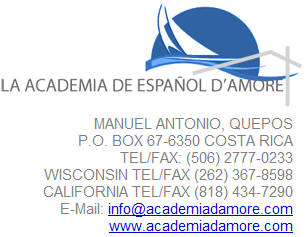 Academia de Español D'Amore, in existence for eleven years, is a quality educational institution created to facilitate the learning of Spanish it offers six specific levels of Spanish proficiency to guarantee the students an appropriate placement. Our students range from absolute beginners to advanced speakers of the language. The student body is typically comprised of professors, medical professionals, business leaders and students from over 35 countries.. Most students participate in the month program although 2 and 3 week courses are also available. To assure the highest quality education.

Currently students attending the school are being given credit for semester hours in the following colleges: Florida State University, Wilkes University in Pennsylvania. In the past other colleges who have accepted semester hours from this program are Texas TEC, University of Texas, Carroll College University, etc..

Our methodology is based on the whole language immersion method of learning; therefore the professors conduct the lessons completely in Spanish completely in Spanish. Students are suggested to participate in the homestay program designed to satisfy the fulfillment of a complete immersion in foreign language acquisition. There are course offered specific to the Medical and Legal Professions for Spanish.


School website Links

Meet the area | Students in action | Adventures Recommendations | Test your Spanish | Methodology
Planning your trip | Registration


Costs 2010
Tuition Only

2-week course
$695
3-week
$940
4-week
$ 1,340
5-week
$ 1,675
6-week
$ 2,010
7-week
$ 2,345
8-week
$ 2,680
Tuition and family lodging

2-week course
$ 845
3-week
$ 1,165
4-week
$ 1,640
5-week
$ 2,050
6-week
$ 2,460
7-week
$ 2,870
8-week
$ 3,280


Contact Info

E-mail: info@academiadamore.com
Website: www.academiadamore.com
Address: 2812 Horshoe Bend, Hartland, WI 53029 USA
Tel: 506-2777-4538
Tel - fax (1) 262-3678598



Go to Index page