Best Spanish Schools in Boquete, Chiriquí, Panamá, Learn Spanish in Boquete
---
School Info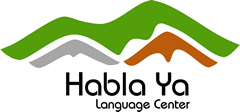 Because you'll live the most amazing learning experience! Top Panama Spanish School: the country's premier Spanish school is amongst the top in Latin America.
Spanish Courses: several options for specific needs.
Accommodation: home stays, hotels & apartments.
Cultural Activities: Salsa & Merengue Lessons, Movie Nights, Conversational Sessions, Dinner Parties, etc.
EcoTours & Adventure Travel: River Rafting, Wildlife Hikes, Ziplining, Birding, Rock Climbing, Island Hoping...
Spanish Programs: Total Immersions, Programs for Kids, Teenagers & School Groups, Family Vacation, Spanish + Volunteer, VIP & Eco-Adventure Programs.
Methodology: proven & effective teaching method. Trained, enthusiastic and experienced native teachers.
Volunteer Opportunities: make the difference...

School Website Links



Features of Habla Ya Panamá (pending)

2010 Rates in USD

Academics

Group - 20 hrs $135 - $225 per week
Private- 20 hrs: $235 - $295 per week

No registration
Accommodations
Homestay w/two meals: $112 /week
Budget Hostal: $75 /week
Mid-Range B&B: $200 - $525 /week
Luxury Resort: $385 - $735 /week
$25 setup fee


Contact Info

Habla Ya Panamá Language Center
Website: www.hablayapanama.com
E-mail: info@hablayapanama.com
Street address: Central Avenue, Los Establos Plaza 20 – 22, Boquete,
Chiriqui, Panama
Tel. USA & Canada: 315-254-2331
Tel. rest of the world: +507-720-1294